Happy "Derby Day" Saturday, Folks and "May the Fourth be With You." It's amazing how fast this past week went by with the weekend already upon us! The forecast calls for some rain chances throughout the day, but quiet weather returns for Sunday.
"Derby Day!" (Tenor Gifs)
"May the Fourth be With You" (Tenor Gifs)
Soggy Saturday "Derby Day"
We will start off our Saturday underneath widespread cloud cover with an increase in shower activity heading into the late morning hours. The best chance for rain will likely be during the early-to-mid afternoon hours, associated with a low-pressure system that will cut across the region.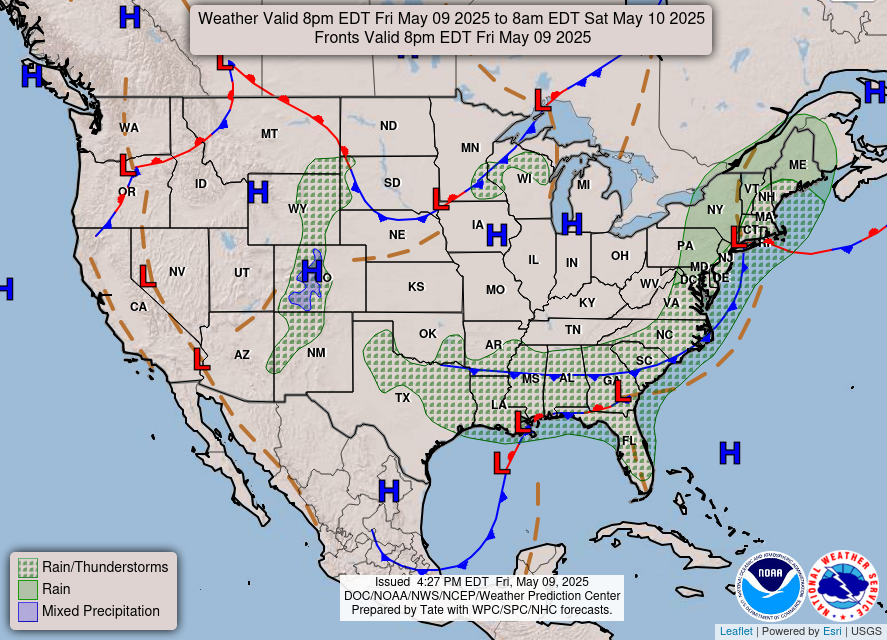 Saturday Weather Outlook (WPC)
Rainfall totals throughout the day will remain on the lighter side, unless caught in a heavier shower or thundershower.
Temperatures around the area will top out around 70ºF, with dew point values reaching the middle 60s making it quite muggy outside.
It's that time of year folks, the mugginess returns. (Tenor Gifs)
Quiet Weather Returns Sunday
Quiet weather returns for Sunday as a high pressure system moves in from the west. This will lead to pleasant conditions with partly sunny skies.
Can't ask for a better Sunday forecast. (Tenor Gifs)
Temperatures on Sunday around the area will top out around 75ºF with calm winds coming out of the north.
Looking Ahead
Heading into the new work week, Monday looks absolutely spectacular! I know, it's Monday, but the forecast calls for sunny skies with highs approaching 80ºF.
NAM showing high pressure circulating warm temperatures into the area. (COD)
Tuesday: Sunny skies continue with a few scattered clouds developing in the afternoon. Highs across the area will be warm, topping out around 85ºF.
Wednesday: Shower and Thunderstorm chances return as another active weather pattern sets up towards the end of the next week. Highs on Wednesday will approach 80ºF.
That wraps up today's wxornotBG forecast, hope you all have a great weekend! Make sure you look for further updates on Facebook and Twitter!
Follow: @wxornotBG